Warriors of America – Fatal Glory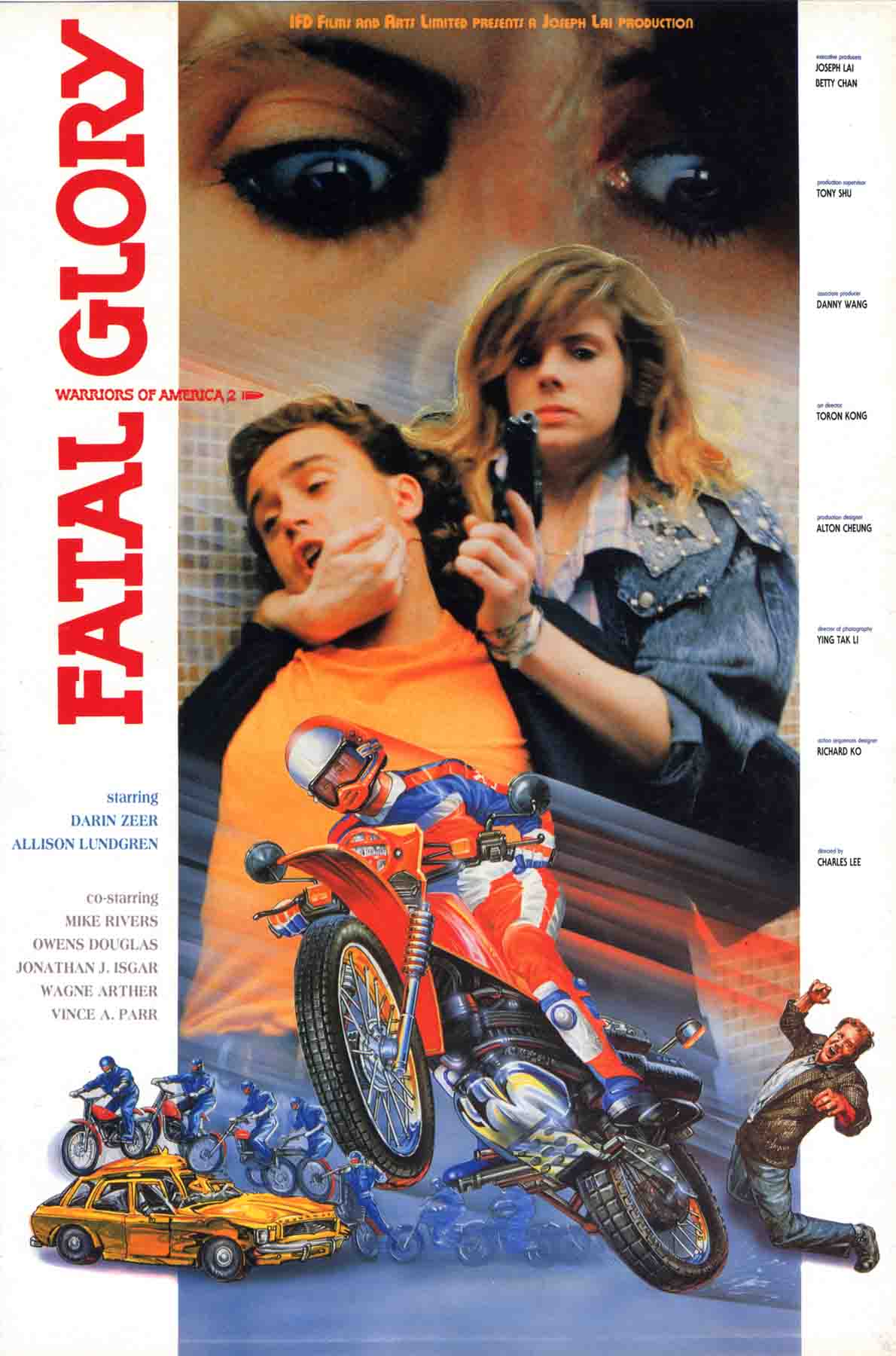 A bloody gangland war breaks out when a young drug lord, West, decides to take out the long reigning underworld kingpin Chang and double cross him on a large shipment of drugs. A special agent who has infiltrated West's organisation must battle both sides when the conflict spirals out of control.
Tony West is a drug overlord who wants to take out the long time underworld kingpin Chang. With Lau's help, West decides to take his move during a drug deal with Chang. Unexpectedly, Eric and Mark come out and steal the drugs. Brian is a special agent who has infiltrated into West's organization, his only outside contact is Barbara, who is now caught by West's men.
Chang finally seizes Eric and forces him to tell where the drug is by raping Shirley's girlfriend.
Mark and Lau arrive for the final showdown. A bloody and breathtaking confrontation takes place.
At the end, Chang, Lau and Mark are all killed. The police appear with Shirley and the secret about the drugs is uncovered. At West's headquarter, Brian's identity is revealed as he tries to save Barbara. An electrifying encounter ensues and West finally dies at the hands of the two special agents.
Starring: CASANOVA WONG, WAYNE ARCHER, ALLISON LUNDGREN, MIKE RIVERS, OWENS DOUGLAS, JONATHAN J. ISGAR,
Producers: JOSEPH LAI, BETTY CHAN
Executive Producer: TONY SHU
Production Manager: KENT HUNG
Production Designer: ALTON CHEUNG
Director of Photography: YING TAK LI
Screenplay: ALTON CHEUNG
Director: CHARLES LEE
Format: Color, 35mm, 1:1.85
Languages: English
Feature Length: 90 minutes
Copyright © MCMLXXXVIII (1988) by IFD FILMS AND ARTS LIMITED. All Rights Reserved.