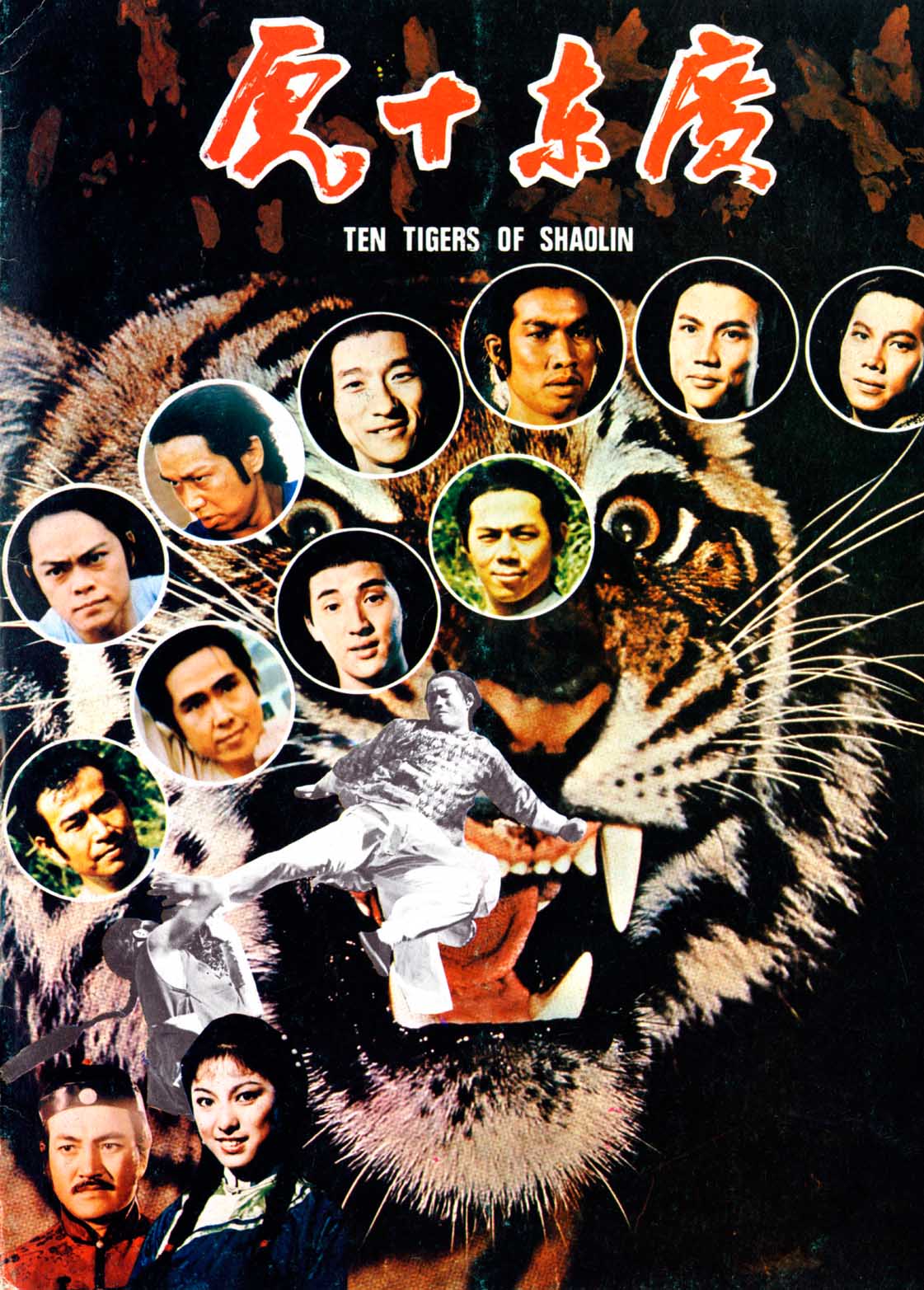 An action packed story of how ten righteous Kung-Fu men rid Canton of a group of vile thugs who were oppressing the people. The ten Kung-Fu Men were known as the "Ten Tigers Of Shaolin" for their uprightness and great skill in Kung-Fu. They were: Chou Tai, Wang Yin Lin, Tharn Chi Chin, Soo Chi Er, Soo Hei Hu, Wang Chi Yin, Tieh Jur Chin, Tieh Chio San, Li Ren Chou and Wang Chin Ker. The villainous thugs were Landlord Chang Hu Sern, Chief of "Chi Yik Tang" Sha Tan Chung, Toaist San Chin, Manchurian Rurn Shou Piau and Hou Tung the district Director-General of Police . These people were also well-versed in Kung-Fu. One day Landlord Chang Hu Sern's raid of a defenceless village was foiled by Chou Tai. Taist Chin San jealous of Chou Tai's success with his former disciple Sung See Wen beat up See Wen seriously. See Wen went to Chiu Tai for help and told him what had happened. Chou Tai and Tieh Chio San disguised as coolies and carried See Wen to San Ching's Shrine for treatment. A fight took place. Chou Tai and Tieh Chio San managed to drive him off the shrine giving him no chance to administer his power of invulnerability. Sha Tan Chung's gang ambushed a wedding party. The bride fought bravely. She perched on tor, of the carriage not wanting to break the taboo of not wanting to touch ground before the marriage ceremony was over. The bride somersaulted in the air, Tan Chung removed the carriage, she was about to break the taboo, Soo Chi Er and his sister arrived. She landed on his shoulders and he helped the bride not to break the taboo .. and also getting out of danger. Landlord Chang, Tan Chung and Taoist San Chin went to enlist the help of Manchurian Rurn Shou Piau whose cousin Hou Tung was Director-General of Police. They made plan to break the Tigers individually. Ta Jer Pei, Wang Yin Lin's disciple worked at a Tea-House. Rurn Shou Paiu beat him up for killing his bird. Wang came in time to save him. Then Rurn tricked Jer Pei's wife to his house and tried to molest her. The ten tigers now planned to retaliate. Meantime Chou Tai was tricked into a trap but was rescued by Wang Chin Ker and the others.. At the same time Landlord Chang came to wreck Soo Chi Er's gymnasium. Tharn Chi Chin and Tieh Chio San fought hard in retrieving the carriage. The skirmishes were of no results. They then tricked the Manchurian with the visit of the Manchurian Princess Sian Ker Ker.. The ten tigers and Soo Chi Er's sister disguised as Sian Ker Ker, beggars and guards to get into the Manchurian's premises.. Then there was a fierce fight. Soo Chi Er's sister was captured by Hou Tung and the tigers failed to rescue her. They came to the conclusion that Soo Chi Er's sister is now imprisoned in "Chi Yik Tang". Jer Pei whose wife killed herself after being raped went to "Chi Yik Tang" alone and was beaten to death. His body was sent to the tigers who at once went to the stronghold. Nobody was there except for a letter.. challenging them to a showdown at Emperor's valley. The ten tigers went in groups . . knowing that the enemy would ambush them enroute . . . as they thought . .. Then a long and ardous fight started between the tigers and the thugs. Both equally good in Kung Fu .. However Chou Tai killed Hu Sern with his fly-kicks; Soo Chi Er broke Toaist San Chin's power of invulnerability with his drunken footwork.. Tharn Chi Chin and Tieh Chio San killed Tan Chung . .; Tieh, Wang and Chou Tai killed the Manchurian and rescued Soo Chi Er's sister from Hou Then all the tigers concentrated on Hou Tung and killed him. At last the villains killed and righteousness was upheld.
Starring: Bruce Leung Siu Lung, Wong Yuan Sun, Jason Pai Piao, Larry Lee Kam Quan,
Han Kwok Tsui, Ching Tao, Mak Tien En,
Michelle Yim.
Producer: Lam Tso-Yui
Action Sequences Designer: Leung Siu Sung
Screenplay: Ngai Hoi-Fung
Director: Ngai Hoi-Fung
Format: Color, 35mm
Languages: Cantonese, English, Spanish
Feature Length: 90 minutes
Copyright © 1978 by IFD FILM ARTS AND SERVICES LIMITED. All Rights Reserved.