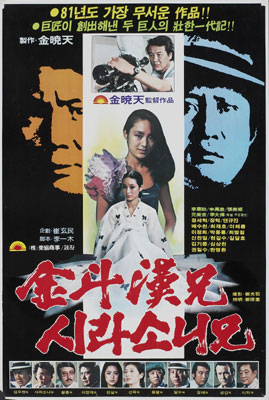 A romantic warrior meets his match.
Kim Du-han prevents Yakuza boss Konoe's men from killing Hwang-yong, an independence fighter who rules Jong-ro Street in Kyungsung(now Seoul). Konoe plans to enlist Sirasoni, the king of head butting, to fight Kim Du-han. But Sirasoni's anti-Japanese sentiments ruin his plans. Meanwhile, Sirasoni's plans to bomb the central plaza in Sinui-ju during the public holiday celebrations is exposed and he flees to Kyungsung. Sirasoni and Kim Du-han join forces and defeat the yakuzas. They part after promising to battle on the liberation day.
Starring : LEE KWAN JO, SHIN WO SHUL, CHANG MI HEE, WON MI KUNG, CHANG YI TAO,
NELSON LEE
Co-starring: LEE DAE YUP, JUNG SE HYEOK, CHENG HAK, FAYE SHAO TIN, YEN QUI CHUNG, LEE CHING KAY, YUAN JEE SHAO, CHUI BIN JEE
Director of Photography: CHENG KWON SHEK
Screenplay: LEE YET MO
Executive Producer: CHUI YUN MAN
Producer: JOSEPH LAI
Director: KIM HILL TIN
Format: 35mm 2.39:1
Running Time: 110 Mins
Copyright © 1981 IFD FILMS AND ARTS LIMITED. All Rights Reserved.