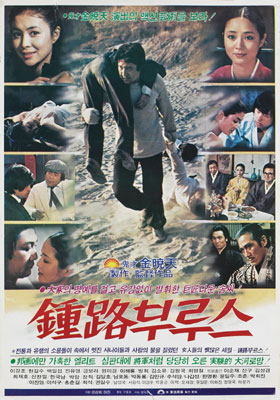 Pak Chang-gu kills Chil-bok, the head of the Jongro gangsters, on New Year's Eve. Afterwards, Kim Du-sik fights Chang-gu in front of the Wu-mi Restaurant and becomes the new boss of the streets.
Hearing this news,Yong-pal from Jullado; Pyungyang Maen-bal from Busan; Dol-ba-wu from Hamkyungdo; Yun Ba-ram from Chungchongdo come to fight with Du-sik. In the end, they all become friends.
Meanwhile, in order to reclaim the streets, Chang-gu uses Detective Mi-wa of the Jongro Police Station. The Japanese man Shikemas learns of this and fights against it. Keo-buk, Du-sik's man, is getting ready to marry
Eul-sun but Chang-gu kills him. Du-sik ends up in jail after fighting with Chang-gu.
Du-sik's blood-brothers from across the country all die at Chang-gu's hand but Du-sik fights Shikemas and avenges his blood-brothers.
Cast: Lee Kang-jo , Won Mi-kyung , Baek Il-seob ,
Geum Bo-ra , Lee Soon-jae
Cinematography:Koo Joong-mo
Producer: Kim Hyo-cheon
Director: Kim Hyo-cheon
Running Time: 110 mins
Released:1982
Copyright © 1982 IFD FILMS AND ARTS LIMITED. All Rights Reserved.